Early in the morning of the 13th July 2017, four intrepid members of the Hosking family set off toward the Col de Peyresourde. Their mission? To watch the Tour de France 2017 Stage 12, and consume plenty of beer and baguette in the process. We'd filled up on pizza and sangria at a lovely little place in Bagnères de Luchon the night before, and were raring to go.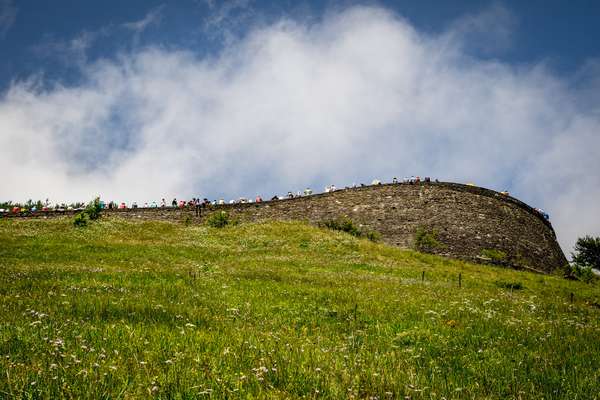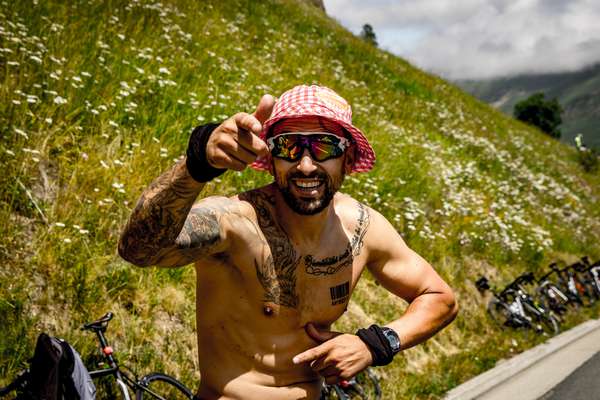 Despite having sneakily managed to borrow my Dad's shiny lightweight carbon fibre Ribble, I was weighed down with a full backpack of camera gear. The lack of a granny gear made the going pretty tough. Still, it was a lot better than the "vélo de supermarché" that my wife had ended up with. A few hours, a lot of breaks and some very sore legs later, we made it to the summit!
We weren't the only ones to have the same idea...
We negotiated the crowds, took a few photos, and dodged the numerous gendarmes trying to enforce some kind of order. Not everyone was so respectful of the law, with many a French argument.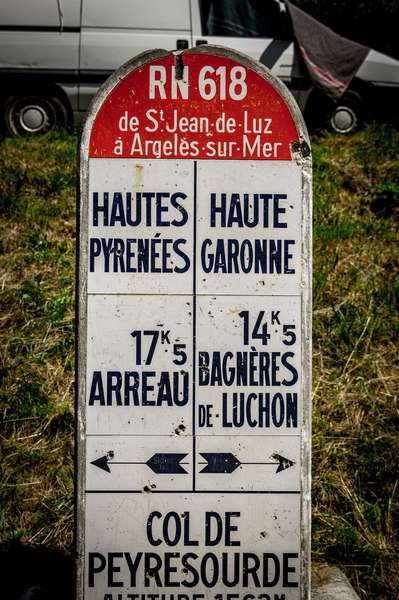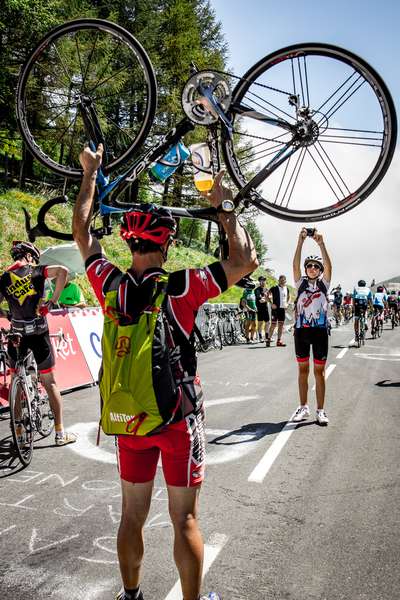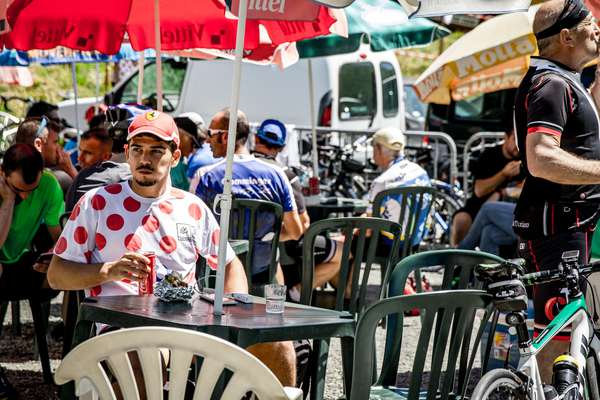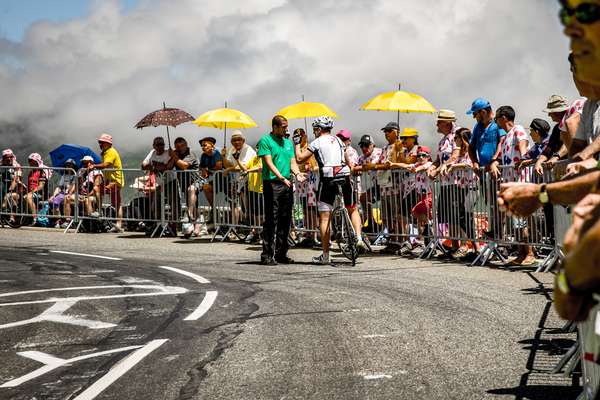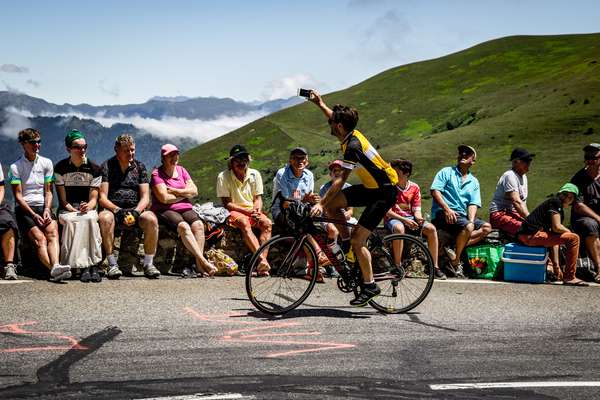 Rolling back down the mountain, we picked a spot on one of the hairpins, and cracked out the picnic. Never has slightly melty cheese tasted so good.
From our vantage point we could watch the rest of the (very substantial) crowds making their way up the climb, and made friends with Snow White and her Seven Dwarves, and the cast of Baywatch.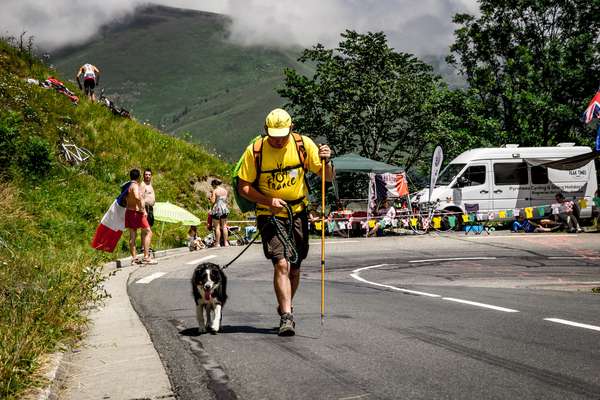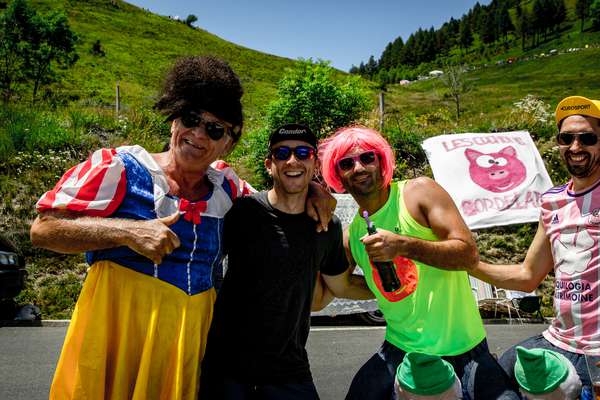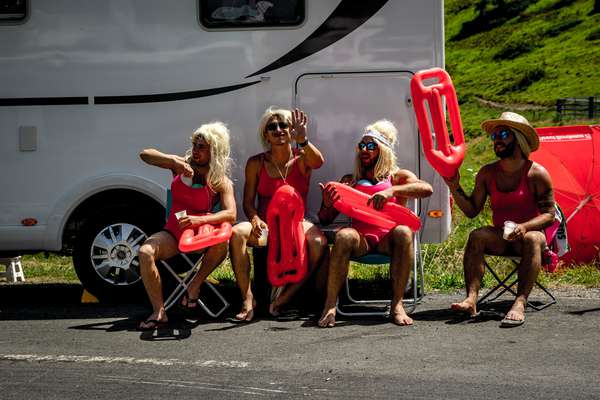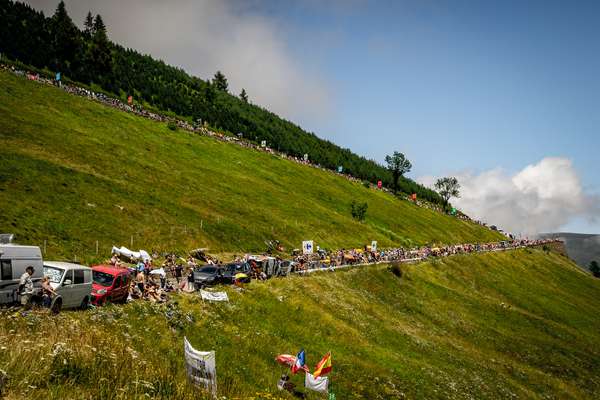 Now that we'd eaten our lunch to lighten our load for the descent, it was time to wait for the caravan. As it was our first time watching the Tour, this came as something of a shock. I started off shooting every crazy vehicle that came round the corner, but realised I would soon run out of space on my SD cards if I did - there were just too many.
Favourites include the woman dressed as some chips, the madeleine-mobile that looked like a creepy shellfish of some kind, and the laundry detergent truck that was giving out... free samples. Up your game, guys.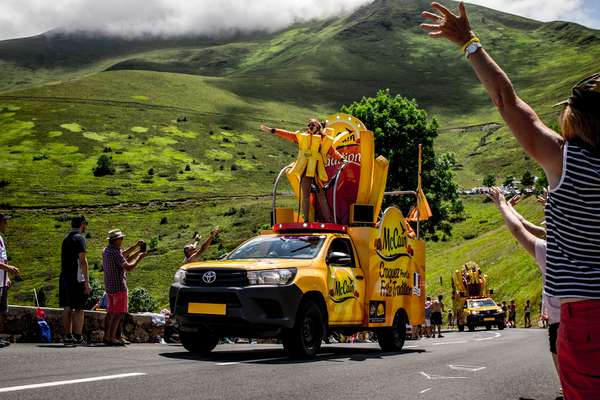 It turns out there isn't much internet at 1500m (who'd have thought) so we strained every hint of GPRS and listened for snippets coming over the French radio commentary to try and work out where the peloton actually was. Finally, a fleet of helicopters buzzed us, everyone waving to the TV cameras, and we knew they were just round the corner.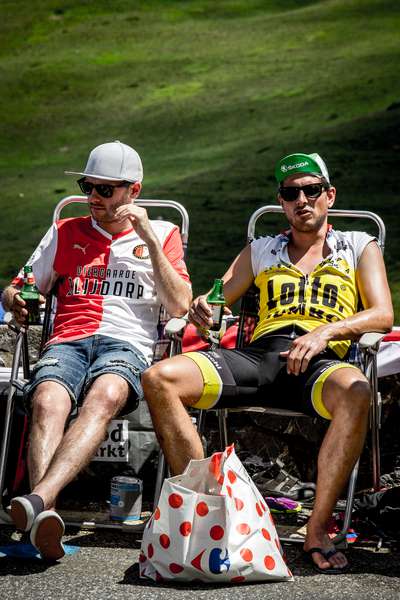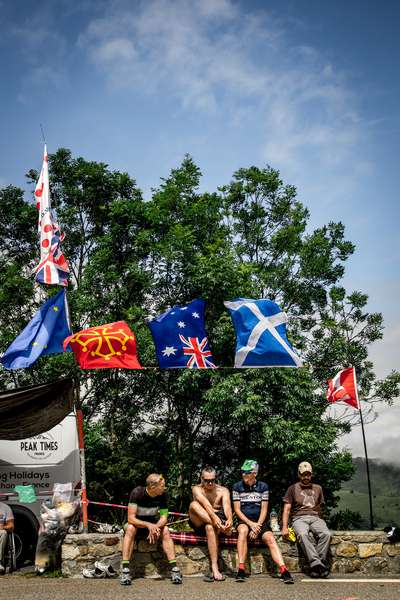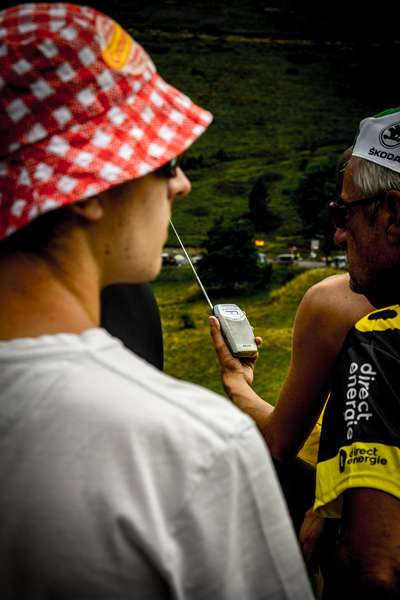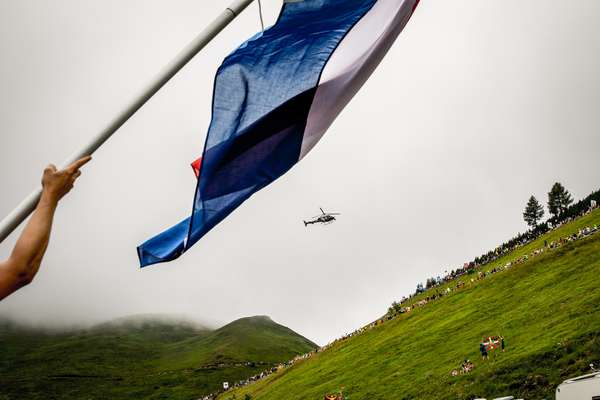 The Team Sky train was in full force, hauling Chris Froome up the climb, with Fabio Aru and Romain Bardet latched on. George Bennett, Warren Barguil and Nairo Quintana followed not far behind, waiting for their opportunity to strike.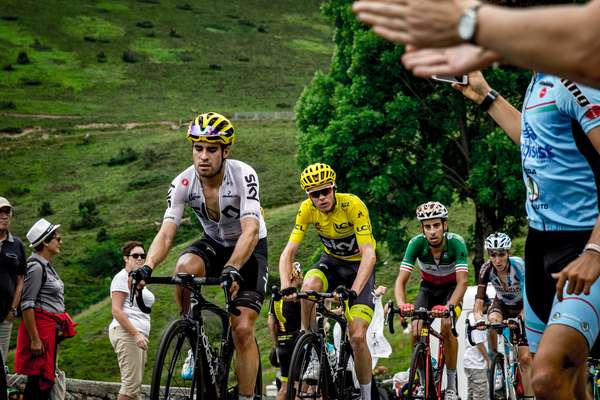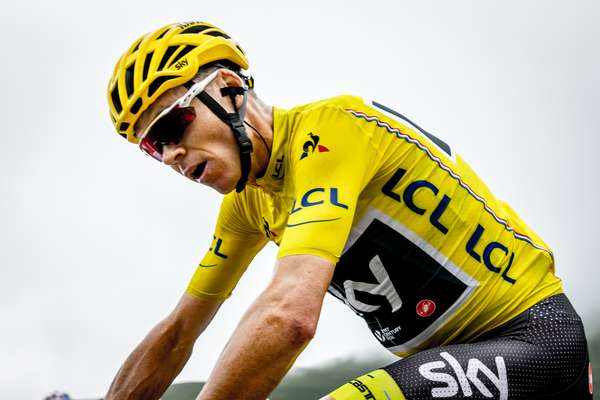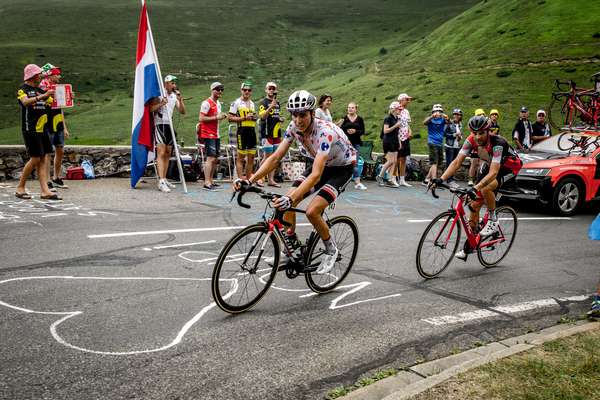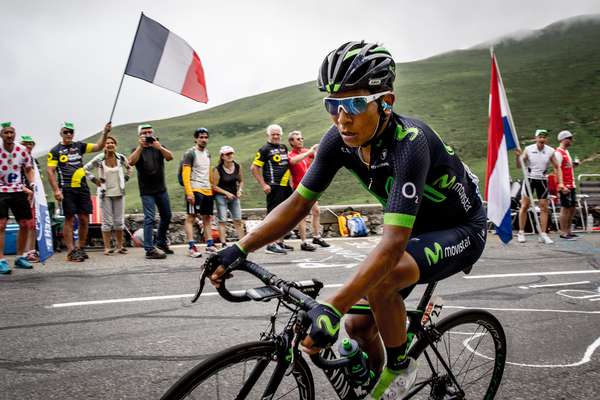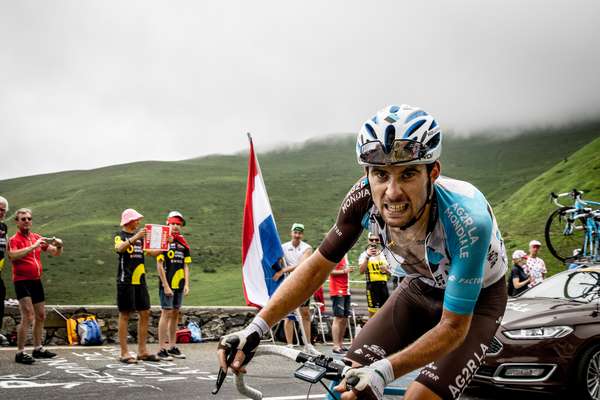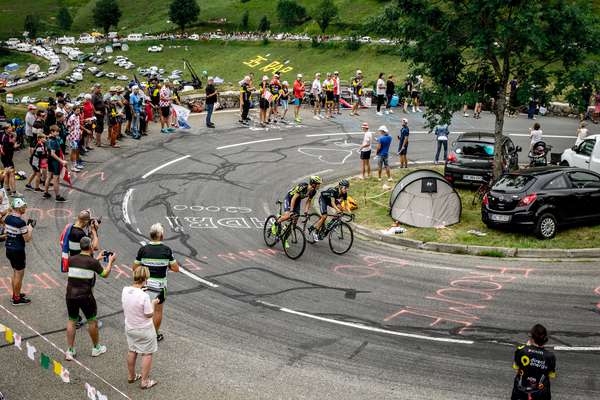 After hours and hours of build up, the lead riders were gone in a flash. But the efforts of a 215km stage with more climbing than should be legal had left many riders in tatters. A stready stream of exhausted sprinters and domestiques followed the main contenders, with varying expressions of pain and resignation.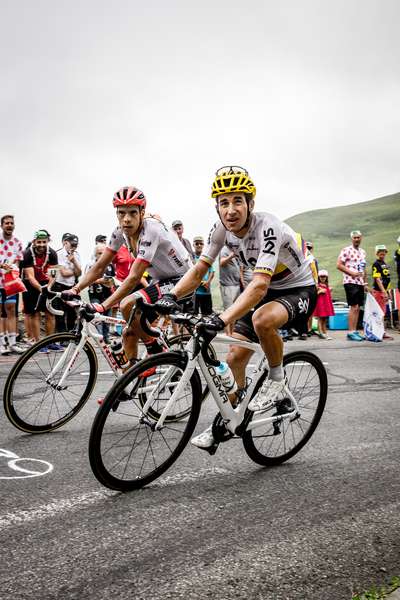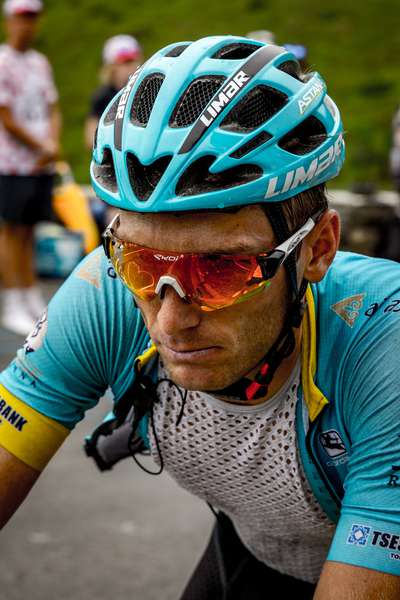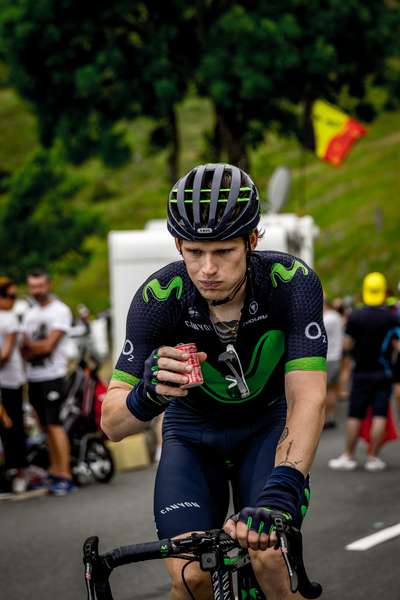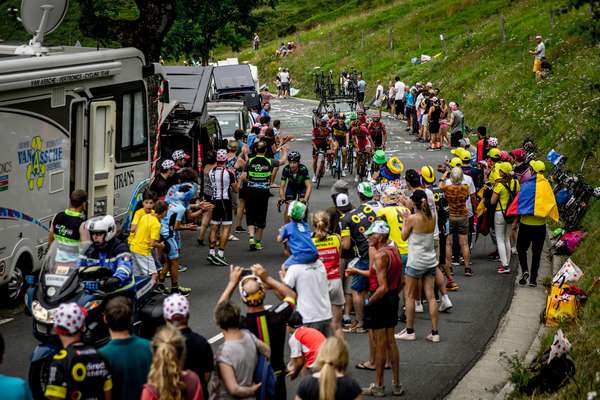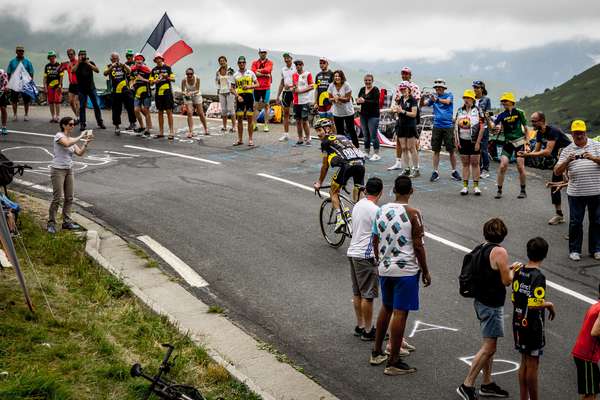 Huge cheers for Tommy Voeckler as he ground up the mountain, today not his choice for making one of his classic attacks. Until finally the last gendarme passed, and the rush of descending fans keen to get some kip (or top up on beers) started.
I'm already looking forward to planning my next trip. I might not take quite so much heavy gear next time though...